Behind every successful business is a strong marketing strategy and a lot of workers who know how to put that strategy together. However, who doesn't like help from a tech savvy marketing tool?
Content marketing should be up to date and on trend. These tools will help your strategy flow easier, become more accurate and create content faster.  With that in mind, we have curated a list of our favourite marketing tools to use in 2019.
The best content marketing tools of 2019
Hootsuite
Hootsuite is a social media management platform that integrates Instagram, Facebook, Twitter, LinkedIn, Google and Pinterest. It also allows you to monitor many other apps like Foursquare, WordPress Blogs and Tumblr. With so many networks to manage, it's no wonder that brands turn to tools like Hootsuite for a helping hand. The most attractive thing about this tool is enabling a social media team to post one post across multiple platforms at the one time! Every week, they will email you analytical reports of how many clicks your posts got, demographics and geographical information of the people interacting with posts and the most popular links. This really does make life easier for all.
MailChimp is an email marketing platform and marketing automation platform that will help you design professional email ads and integrated social ads to help market your business. The thing we love about MailChimp is that you don't need to be a designer or know much about email marketing to create ads; they have the design tools and professional layouts to create sophisticated campaigns that help shine a light on the best of your business. They make it easy to connect with your audience in the right place, at the right time and give you all the analytical reports to track this. You can create emails, landing pages, Google remarketing ads, postcards, sign up forms and Facebook ads. This will make your email marketing SO much easier –  trust us, AND it's free!
Google Analytics is one of the most powerful digital analytics software. For any business it is an important marketing tool, however, one that is underlooked. This software provides you with crucial insights that can help shape your marketing strategy and get you the best value for money behind your budget. Again, this is FREE to use giving you extra budget to use elsewhere. The best thing about Google Analytics is that you get instant access to all your reports without having to extract to spreadsheets or Google Docs. It saves time and stress! Not only this you can get insights into EVERYTHING to do with the people interacting with your site – age, gender, devices, interests and locations. Seriously, this is crucial to have for your business.
Canva is a basic graphic design tool that allows you to create designs for web or print. Being very easy to use, it helps people with basic design skills to create outstanding images to use for any means of marketing. It has a lot of different features allowing you to split a picture up into smaller sections, drag different images on top of one another and select text to cover images. The software allows you to create cover photos for websites, Facebook and Twitter. Not only this, they have design layouts for Pinterest, Instagram, Tumblr and more social platforms. You can share content directly to social platforms and share with other members of your team, easy! If you need a helping hand with design, this one's for you.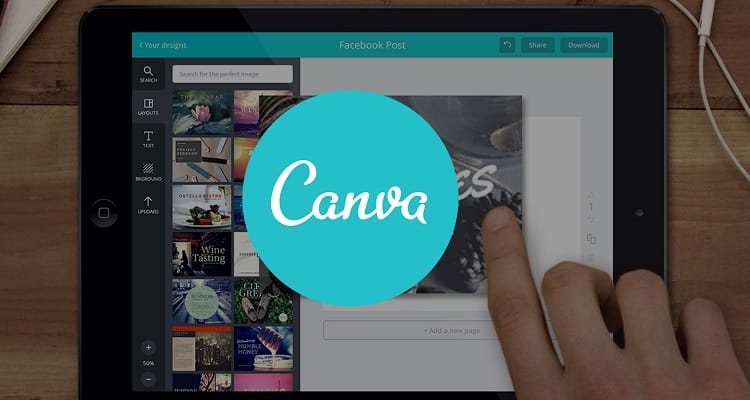 Facebook Ad Manager allows you to take your business to the next level on Facebook. This tool allows you to run your ad campaigns whilst analysing all the data from your ads. One of the main reasons this will make your life easier is that everything is on one dashboard – your different pages, ad accounts and ads! If you are a business that has multiple pages to track, you run ads in different locations or you market to different clients with several pages this is going to help you out a lot. This is a tool for entrepreneurs who want to put a mark on their Facebook Business Profile – providing a 360 degree view of your business to support the marketing strategy in place.